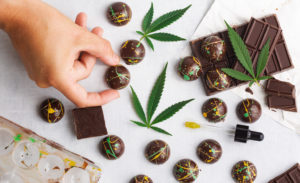 Cannabis edibles have become a popular way for consumers to enjoy cannabinoids without smoking as they come in many delicious forms, from gummies and chocolates to teas and mints. When searching for cannabis edibles visit Bud Barn, located in Winchendon, MA, where the knowledgeable and friendly staff can help you explore the wide selection of products. Not only do our edibles provide great taste and flavor, but they also contain high-quality cannabinoids extracted from premium cannabis flowers.
Unlike other sources of cannabis edibles, Bud Barn's edibles are all lab tested for potency and purity so that customers can be sure they're getting what they paid for. In addition, Bud Barn's edibles are made with high-quality ingredients, so customers can be sure they're getting a product free of potentially harmful chemicals or additives and feel confident in their selection.
Benefits of Edibles and What to Look For
Cannabis edibles provide many benefits over smoking or vaping cannabis, including convenience and discretion. Edibles are also known to be more potent, so a smaller dose is needed for the same effect as smoking or vaping cannabis. When looking for the right edible, people should look out for potency information, dosage recommendation, and natural ingredients to ensure they're getting a high-quality edible. With our knowledgeable and helpful staff, customers can find edibles that fit their needs.
Edibles for All Tastes and Experiences
No matter what type of cannabis experience you're looking for, Bud Barn's edibles have something for everyone. From sweet gummies to chocolates, we carry many different kinds of cannabis edibles, so even the most discerning customers can find the right product. We also carry edibles with varying cannabinoid levels, so customers can choose an edible that best suits their edible needs. Lastly, we ensure our edibles are made with natural ingredients to give customers peace of mind that what they're consuming is safe and pure. Stop in or even shop online so you can find the perfect edible.