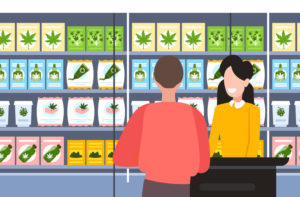 No cannabis shop is complete without a dispensary menu, which is why Bud Barn, located in Winchendon, MA, has specially curated ours to include the best products for our customers. This includes flower, pre-rolls, vaporizers, concentrates, topicals, and edibles, with each product having its own set of benefits that can help cannabis users feel their best. And, by taking a look through our menu before your visit, you'll be able to make a more informed decision the next time you visit our dispensary.
Like many dispensaries, you will be able to find THC on the menu and products with a variety of concentrations for both novice and experienced cannabis users. Your strain of choice will also be important:
Indica strains will give you a more relaxing feeling
Sativa strains are more energizing.
If you don't see the option for what you're looking for, don't be afraid to ask our knowledgeable staff. When looking at the dispensary menu, our budtenders will help you find what you need or make recommendations based on what you're looking for. And, if you are considering trying a new product, we can also help you understand how to use it and what the effects might be.
You'll find that the dispensary menu also has a variety of brands. This is important because each brand has its own way of growing, processing, and packaging its products. Since you may find that you like the products from one brand more than another, it's good to have a variety to choose from so you can find what works best for you.
Also, keep in mind any special deals or promotions that might be going on. You can view available promotions on our website, so always keep an eye out for what could become a favorite product. Bud Barn's dispensary menu, also has a loyalty program where you can earn points for every purchase that can be redeemed for discounts on future purchases.
Consider the way you will consume the product as well. If you're looking to smoke, you'll want to look at our flower selection. If you're looking for something to put under your tongue, you might want to consider a tincture. Topical ointments are good for localized pain relief and products like edibles can be good for a longer-lasting effect. Next time you view our dispensary menu, keep these things in mind to help you make a more informed decision.