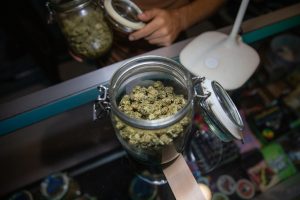 As a recreational cannabis dispensary, Bud Barn, located in Winchendon, MA, looks forward to making our mark on the community. We are in the perfect spot for locals and tourists alike to experience a dispensary that caters to both novice and experienced cannabis users. Our focus on providing high-quality products, education, and retail experiences makes us a can't-miss cannabis destination.
What sets the Bud Barn Dispensary apart is our focus on quality. We offer a wide selection of the best blends and latest products so customers can be confident in their choices. We're also advocates for cannabis education and deliver the support customers need to be empowered and enjoy cannabis safely. Our goal is to offer our customers a unique, welcoming environment to explore the world of recreational marijuana.
At Bud Barn, we're passionate about making everyone feel welcome and ensuring they have a pleasant experience. We offer a wide selection of top-of-the-line products and accessories so that customers can find everything they need in one stop. Whether you live in the area or are just passing through, stop by and see what we're all about. Our expert budtenders will answer any questions and help you design the cannabis experience you want. Stop by Bud Barn and see why we are ready to be your next dispensary.
A dispensary like ours changes the game of recreational marijuana and shows people that cannabis can be fun, safe, and educational. With our emphasis on quality and customer service, Bud Barn is your go-to spot for all things cannabis.
No matter your budget, we have something for everyone. Our wide selection includes popular Indica, Sativa, and hybrid strains and the latest products from top brands in the industry. In addition to Bud Barn's great selection, we also offer educational resources so that you can learn more about the products we carry. This way, you can decide what's right for you and your health at our cannabis dispensary.